etc.venues County Hall
Premium Member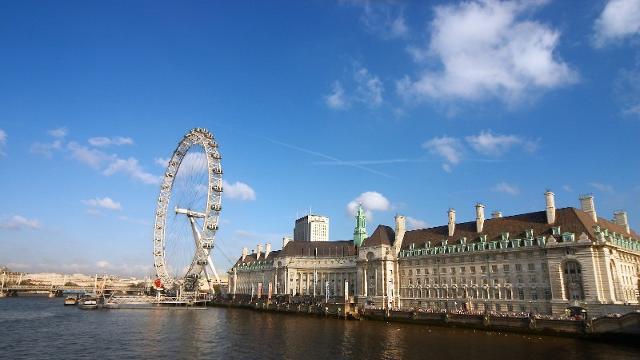 etc.venues County Hall offers 68,000 square feet of multi-use event space over two floors for conferences, meetings and events.
Read More
About
Situated on the south bank of the Thames, etc.venues County Hall has an enviable location next to the London Eye with breathtaking views over the Houses of Parliament and Big Ben, and is easily accessible from both Waterloo and Westminster stations.
etc.venues County Hall offers a range of event spaces, including a number of large suites for up to 400 which can combine into a large multi-purpose space for 900 guests. In addition, the venue offers a range of smaller meeting and training rooms, as well as exclusive-use opportunities and private dining options.
Throughout, this iconic building has been thoughtfully restored using original features coupled with high-quality design in classic copper and velvety tones.
Meeting room layouts
Room
Style
Capacity
Act (62 m²/ 667 ft²)
Theatre
40
Cabaret
24
Classroom
24
Boardroom
12
U Shape
18
Act & Elect
Cabaret
36
Assent (94 m²/ 1012 ft²)
Theatre
80
Cabaret
48
Classroom
24
Boardroom
32
U Shape
18
Baron (79 m²/ 850 ft²)
Theatre
80
Cabaret
48
Classroom
40
Banqueting
60
Boardroom
32
U Shape
28
Baroness (34 m²/ 366 ft²)
Theatre
32
Cabaret
12
Classroom
12
Banqueting
20
Boardroom
12
U Shape
12
Chancellor 1 (98 m²/ 1055 ft²)
Theatre
75
Cabaret
42
Classroom
24
Boardroom
32
U Shape
30
Chancellor 2 (62 m²/ 667 ft²)
Theatre
50
Cabaret
30
Classroom
30
Boardroom
24
U Shape
24
Chancellor Suite
Cabaret
72
Countess (70 m²/ 753 ft²)
Theatre
56
Cabaret
26
Classroom
24
Banqueting
50
Boardroom
28
U Shape
20
County 1 (223 m²/ 2400 ft²)
Theatre
200
Cabaret
144
Banqueting
140
Boardroom
80
County 2 (171 m²/ 1841 ft²)
Theatre
150
Cabaret
114
Banqueting
100
County Suite (394 m²/ 4241 ft²)
Theatre
400
Cabaret
252
Classroom
180
Banqueting
250
Boardroom
150
U Shape
200
Dame (76 m²/ 818 ft²)
Theatre
64
Cabaret
32
Classroom
30
Banqueting
50
Boardroom
28
U Shape
26
Duchess (76 m²/ 818 ft²)
Theatre
64
Cabaret
36
Classroom
30
Banqueting
50
Boardroom
28
U Shape
24
Duke 1 (57 m²/ 614 ft²)
Theatre
50
Cabaret
24
Classroom
24
Banqueting
40
Boardroom
20
U Shape
16
Duke 2 (82 m²/ 883 ft²)
Theatre
70
Cabaret
48
Classroom
36
Banqueting
60
Boardroom
32
U Shape
24
Duke Suite (139 m²/ 1496 ft²)
Theatre
160
Cabaret
96
Classroom
72
Banqueting
100
Boardroom
52
U Shape
48
Earl (51 m²/ 549 ft²)
Theatre
50
Cabaret
24
Classroom
18
Banqueting
40
Boardroom
20
U Shape
18
Elect (77 m²/ 829 ft²)
Theatre
20
Cabaret
12
Classroom
12
Boardroom
12
U Shape
10
Innovation (56 m²/ 603 ft²)
Theatre
60
Cabaret
24
Classroom
24
Banqueting
40
Boardroom
24
U Shape
20
Knight's Lounge (220 m²/ 2368 ft²)
Reception
250
Legislate (118 m²/ 1270 ft²)
Theatre
90
Cabaret
54
Lord 1 (59 m²/ 635 ft²)
Theatre
50
Cabaret
36
Classroom
40
Boardroom
24
U Shape
20
Lord 2 (66 m²/ 710 ft²)
Theatre
50
Cabaret
48
Classroom
24
Boardroom
32
U Shape
30
Lord 3 (76 m²/ 818 ft²)
Theatre
60
Cabaret
48
Classroom
20
Boardroom
32
U Shape
30
Lord Suite (201 m²/ 2164 ft²)
Theatre
175
Cabaret
132
Mayor 1 (91 m²/ 980 ft²)
Theatre
96
Cabaret
72
Classroom
56
Banqueting
80
Boardroom
40
U Shape
36
Mayor 2 (53 m²/ 570 ft²)
Theatre
48
Cabaret
30
Classroom
24
Banqueting
40
Boardroom
20
U Shape
16
Mayor Suite (144 m²/ 1550 ft²)
Theatre
152
Cabaret
108
Classroom
84
Banqueting
120
Boardroom
60
U Shape
56
Thames 1 (86 m²/ 926 ft²)
Theatre
90
Cabaret
66
Classroom
60
Banqueting
70
Reception
90
Boardroom
40
U Shape
32
Thames 1 & 2 (168 m²/ 1808 ft²)
Theatre
200
Cabaret
150
Classroom
130
Banqueting
150
Reception
200
Boardroom
80
U Shape
70
Thames 2 (82 m²/ 883 ft²)
Theatre
90
Cabaret
66
Classroom
60
Banqueting
70
Reception
90
Boardroom
40
U Shape
32
Thames Lounge (575 m²/ 6189 ft²)
Banqueting
200
Reception
600
Thames Suite (743 m²/ 7998 ft²)
Banqueting
400
Reception
750
The Coade Room (144 m²/ 1550 ft²)
Theatre
140
Cabaret
84
Classroom
64
Banqueting
100
Reception
140
Boardroom
64
U Shape
56
The Speakers Bar & Restaurant (190 m²/ 2045 ft²)
Reception
175
Waterloo Suite (288 m²/ 3100 ft²)
Theatre
328
Cabaret
192
Classroom
136
Banqueting
240
Westminster
Theatre
140
Cabaret
96
Classroom
64
Banqueting
100
Reception
140
Boardroom
64
U Shape
56
Facilities
Event Facilities

Breakout Rooms
Conference rooms / Meeting rooms
In house AV available

Venue details and map
etc.venues County Hall
Address

County Hall, Belvedere Road, Waterloo

London

UK

SE1 7PB

Telephone:

+44 (0)20 3735 4200

Email

Website