etc.venues 133 Houndsditch
Premium Member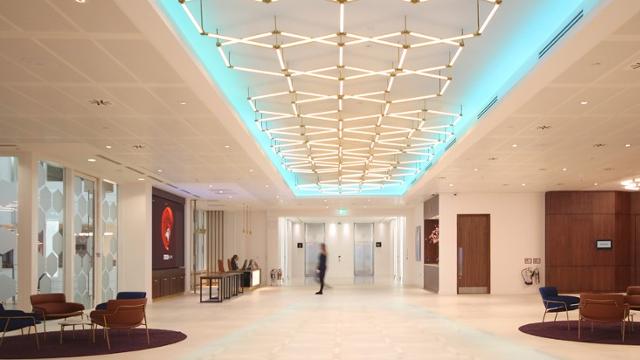 etc.venues 133 Houndsditch, a modern conference and event space covering 33,000 square feet on one floor in The City. The Main Suite accommodates 700 with an adjoining Galleria for up to 60 stands.
Read More
About
The venue is located in the heart of The City, near Liverpool Street and Bank stations. Situated across one floor, the main conference suite can accommodate 700 theatre style, 500 cabaret, 550 banquet.
For added flexibility there are a further 7 large breakout rooms (for 50-100) and a large Galleria ideal for exhibitions for up to 60 stands.
Meeting room layouts
Room
Style
Capacity
Engage (116 m²/ 1249 ft²)
Theatre
120
Cabaret
60
Classroom
56
Banqueting
84
Boardroom
36
U Shape
24
Enterprise 1 (445 m²/ 4790 ft²)
Theatre
400
Cabaret
270
Classroom
216
Banqueting
300
Enterprise 2 (295 m²/ 3175 ft²)
Theatre
300
Cabaret
174
Classroom
144
Banqueting
192
Enterprise Suite (740 m²/ 7965 ft²)
Theatre
700
Cabaret
500
Classroom
400
Banqueting
576
Galleria (740 m²/ 7965 ft²)
Reception
740
Integrate 1 (166 m²/ 1787 ft²)
Theatre
200
Cabaret
102
Classroom
100
Banqueting
132
Boardroom
48
U Shape
32
Integrate 2 (62 m²/ 667 ft²)
Theatre
70
Cabaret
36
Classroom
28
Banqueting
36
Boardroom
24
U Shape
20
Integrate 3 (60 m²/ 646 ft²)
Theatre
70
Cabaret
36
Classroom
28
Banqueting
36
Boardroom
24
U Shape
20
Integrate Suite (288 m²/ 3100 ft²)
Theatre
340
Cabaret
180
Classroom
156
Banqueting
252
Interact (148 m²/ 1593 ft²)
Theatre
144
Cabaret
96
Classroom
80
Banqueting
96
Boardroom
44
U Shape
30
Synergy 1 (83 m²/ 893 ft²)
Theatre
90
Cabaret
48
Classroom
48
Banqueting
72
Boardroom
36
U Shape
30
Synergy 2 (87 m²/ 936 ft²)
Theatre
90
Cabaret
48
Classroom
48
Banqueting
72
Boardroom
36
U Shape
30
Synergy Suite (170 m²/ 1830 ft²)
Theatre
200
Cabaret
114
Classroom
94
Banqueting
144
Boardroom
48
U Shape
38
Partnership Suite (428 m²/ 4607 ft²)
Theatre
240
Cabaret
240
Classroom
216
Partnership 1 (157 m²/ 1690 ft²)
Theatre
80
Cabaret
90
Classroom
84
Boardroom
44
U Shape
34
Partnership 2 (114 m²/ 1227 ft²)
Theatre
80
Cabaret
60
Classroom
56
Boardroom
36
U Shape
30
Partnership 3 (157 m²/ 1690 ft²)
Theatre
80
Cabaret
84
Classroom
64
Boardroom
40
U Shape
30
Connection (40 m²/ 431 ft²)
Theatre
25
Cabaret
18
Boardroom
14
Affiliation Suite (247 m²/ 2659 ft²)
Theatre
240
Cabaret
144
Classroom
136
Affiliation 1 (83 m²/ 893 ft²)
Theatre
65
Cabaret
48
Classroom
38
Boardroom
28
U Shape
22
Affiliation 2 (82 m²/ 883 ft²)
Theatre
80
Cabaret
48
Classroom
36
Boardroom
28
U Shape
22
Affiliation 3 (82 m²/ 883 ft²)
Theatre
70
Cabaret
48
Classroom
44
Boardroom
28
U Shape
22
Facilities & Accessibility
Access into the Building

Automatic doors
Full, non-assisted wheelchair access


Accessible Venue Facilities

Emergency evacuation procedures for guests with disabilities
Special dietary requirements catered for
Staff available to assist


Catering Facilities

Breakfast included
Event catering
Halal options on menu
Nut-free option on menu
Vegetarian options on menu


Event Facilities

Breakout Rooms
Conference rooms / Meeting rooms
In house AV available


General Facilities

Free WiFi
Lifts
Luggage storage

Venue details and map
etc.venues 133 Houndsditch
Address

133 Houndsditch, City of London

London

UK

EC3A 7BX

Telephone:

0044 (0)20 7138 3280

Email

Website