QEII Centre
Premium Member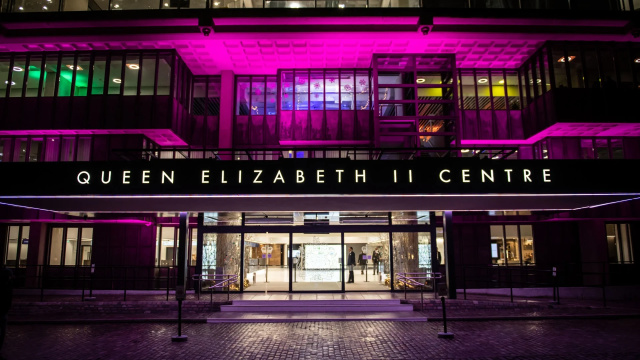 The QEII Centre is the largest dedicated conference, events and exhibition space in central London. The venue offers world-class facilities for events with capacity of two to 2,500.
Read More
About
A multi-award-winning venue, the QEII Centre can accommodate all types of events, from small meetings to major international summits.
Offering standard packages through to bespoke requirements, the in-house AV and Catering teams are on hand to provide solutions for your event to ensure it exceeds expectations. With cutting-edge technology and the in-house AV team QEII Live expertise, the venue can help you deliver live and engaging hybrid and studio events. With a 5Gbps building-wide supply, its reliable, superfast, wired bandwidth will contribute to a flawless live stream to your remote audience and is accessible to onsite delegates.
It is constantly investing in the latest technology, including advanced audio and video communications such as IPTV and state-of-the-art digital signage.
The centre is easy to get to and has exceptional transport links; it is within a 15-minute walk of several major rail hubs and an hour's transfer from five international airports.
Meeting room layouts
Room
Style
Capacity
Abbey (130 m²/ 1399 ft²)
Theatre
110
Cabaret
56
Classroom
50
Banqueting
70
Reception
110
Boardroom
40
Britten (767 m²/ 8256 ft²)
Banqueting
450
Reception
900
Dinner Dance
360
Olivier / Burton / Gielgud Combined (679 m²/ 7309 ft²)
Banqueting
340
Reception
460
Churchill (720 m²/ 7750 ft²)
Theatre
700
Cabaret
280
Classroom
328
Banqueting
400
Boardroom
92
Windsor (330 m²/ 3552 ft²)
Theatre
180
Cabaret
77
Classroom
80
Banqueting
200
Reception
300
Boardroom
42
Gielgud (250 m²/ 2691 ft²)
Theatre
120
Cabaret
36
Classroom
56
Banqueting
100
Reception
130
Fleming & Whittle Combined (1375 m²/ 14800 ft²)
Theatre
1300
Cabaret
497
Classroom
600
Banqueting
930
Reception
1200
Fleming Room (800 m²/ 8611 ft²)
Theatre
780
Cabaret
294
Classroom
348
Banqueting
550
Reception
800
Boardroom
100
Moore (130 m²/ 1399 ft²)
Theatre
110
Cabaret
56
Classroom
50
Banqueting
70
Reception
100
Boardroom
40
Mountbatten (293 m²/ 3154 ft²)
Theatre
410
Cabaret
161
Banqueting
384
Reception
500
Cambridge (840 m²/ 9042 ft²)
Banqueting
500
Reception
600
Pickwick (585 m²/ 6297 ft²)
Banqueting
370
Reception
600
Rutherford (126 m²/ 1356 ft²)
Theatre
78
Cabaret
35
Classroom
40
Banqueting
60
Reception
90
Boardroom
30
St James's (290 m²/ 3122 ft²)
Theatre
175
Cabaret
70
Classroom
64
Banqueting
120
Reception
250
Boardroom
30
Windsor / Cambridge (840 m²/ 9042 ft²)
Banqueting
500
Reception
600
Westminster (355 m²/ 3821 ft²)
Theatre
140
Cabaret
63
Classroom
66
Banqueting
160
Reception
300
Boardroom
30
Whittle (515 m²/ 5543 ft²)
Theatre
400
Cabaret
161
Classroom
206
Banqueting
340
Reception
550
Boardroom
80
Burton / Redgrave (179 m²/ 1927 ft²)
Theatre
60
Cabaret
40
Boardroom
40
Albert (90 m²/ 969 ft²)
Theatre
80
Cabaret
35
Classroom
40
Banqueting
50
Reception
80
Boardroom
32
Olivier (250 m²/ 2691 ft²)
Theatre
70
Cabaret
49
Classroom
36
Banqueting
100
Reception
130
Burton (116 m²/ 1249 ft²)
Theatre
40
Cabaret
28
Classroom
28
Banqueting
100
Reception
130
Victoria (83.1 m²/ 894 ft²)
Theatre
80
Cabaret
35
Classroom
40
Banqueting
50
Reception
80
Boardroom
32
Guild (85.4 m²/ 919 ft²)
Theatre
56
Cabaret
28
Classroom
28
Banqueting
40
Reception
90
Boardroom
30
Bryon (42 m²/ 452 ft²)
Theatre
25
Cabaret
14
Classroom
12
Banqueting
20
Reception
20
Boardroom
12
Chaucer (44 m²/ 474 ft²)
Theatre
28
Cabaret
14
Classroom
16
Banqueting
20
Reception
30
Boardroom
16
Moore / Rutherford (256 m²/ 2756 ft²)
Cabaret
14
Banqueting
135
Reception
200
Abbey / Rutherford (256 m²/ 2756 ft²)
Theatre
110
Cabaret
56
Classroom
50
Banqueting
135
Reception
200
Boardroom
40
Moore / Abbey / Rutherford (256 m²/ 2756 ft²)
Banqueting
200
Reception
300
Keats (46 m²/ 495 ft²)
Theatre
30
Cabaret
14
Classroom
18
Banqueting
20
Reception
30
Boardroom
16
Burns (60 m²/ 646 ft²)
Theatre
30
Cabaret
21
Classroom
18
Banqueting
20
Reception
40
Boardroom
16
Shelley (64 m²/ 689 ft²)
Theatre
40
Cabaret
21
Classroom
20
Banqueting
20
Reception
40
Boardroom
20
Wesley (64 m²/ 689 ft²)
Theatre
40
Cabaret
28
Classroom
22
Banqueting
20
Reception
40
Boardroom
24
Wordsworth (64 m²/ 689 ft²)
Theatre
42
Cabaret
28
Classroom
22
Banqueting
20
Reception
40
Boardroom
24
Darwin (50 m²/ 538 ft²)
Theatre
35
Cabaret
21
Classroom
20
Banqueting
20
Reception
40
Boardroom
20
Hawking (40 m²/ 431 ft²)
Theatre
25
Cabaret
14
Classroom
12
Banqueting
10
Reception
20
Boardroom
16
Facilities & Accessibility
Access Inside Building Facilities

Some routes suitable for limited mobility users
Accessible lift
Lift buttons with raised numbers or letters
Lift with spoken announcements on arrival at each floor
Ramps within building
Some routes suitable for wheelchair users
Steps within building


Access into the Building

Automatic doors
Flat routes from parking area to entrance
Ramps from parking area to entrance
Ramps with handrails to entrance
Steps from parking area to entrance
Steps with handrails to entrance


Accessible Bathroom Facilities

Designated wheelchair accessible public toilet


Accessible Communication Facilities

Audible alarm system
Clear signage (colour contrast, large letters or pictograms)
Hearing loop system
Menus available in large print


Accessible Parking Facilities

Blue badge parking available
Designated disabled parking available within fifty metres of main entrance
Drop-off point for guests available outside main entrance
Public car park available within two hundred metres of main entrance


Accessible Venue Facilities

Assistance dogs welcome
Emergency evacuation procedures for guests with disabilities
Special dietary requirements catered for
Staff available twenty four hours
Staff available to assist
Staff disability awareness trained
Level access, ramp or lift to the lounge


Additional Accessible Facilities

Level access, ramp or lift from entrance to reception
Portable chip and pin machines


Catering Facilities

Cafe
Event catering
Private Dining


Event Facilities

Available for wedding receptions
Breakout Rooms
Business centre
Conference rooms / Meeting rooms
In house AV available
Trade vehicle access
Venue can display vehicles inside

Venue details and map
QEII Centre
Address

Queen Elizabeth II Centre, Broad Sanctuary

London

UK

SW1P 3EE

Telephone:

+44 (0)20 7798 4000

Email

Website